20 Business-to-Business Examples
As you can probably imagine, there are countless business-to-business examples out there that you can learn from, but here are 20 of my favorites (in no particular order):
1. SNAPCAP
SnapCap specializes in quick and easy small-business loans (up to $600,000). Since the headache of dealing with business finances stops many people from starting a business, this is super helpful to businesses who are starting out in their first year when the budget is tight and you need to expand your efforts!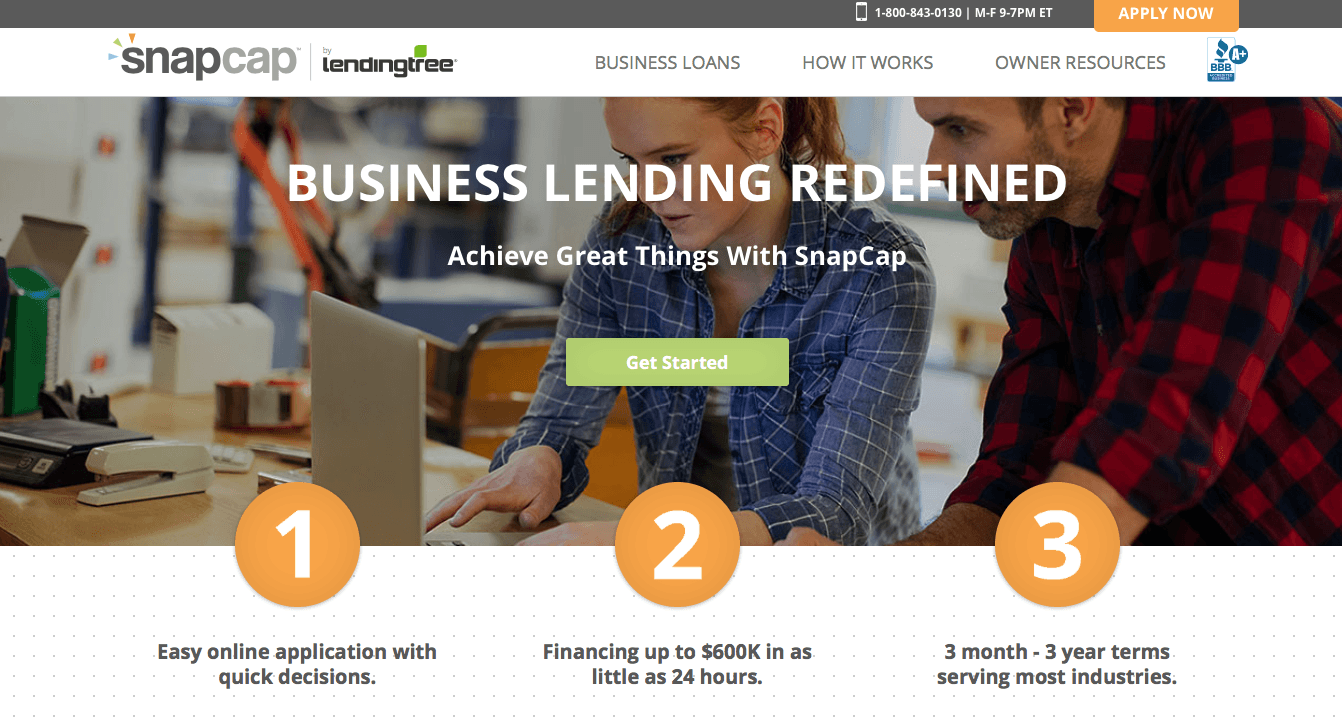 Their requirements for qualifying for a loan are clear, simple and helpful. SnapCap does an awesome job in content for their targeted audience of small business owners at a wide variety of points in the buyer's journey. They put many businesses at ease who worry about financial institutions' trustworthiness, value and content.
2. NEW RELIC
New Relic proclaims they help clients "understand the stories their data is trying to tell them." Their business makes software analytics less intimidating for people who are not as much "data freaks" as they should be as a business owner.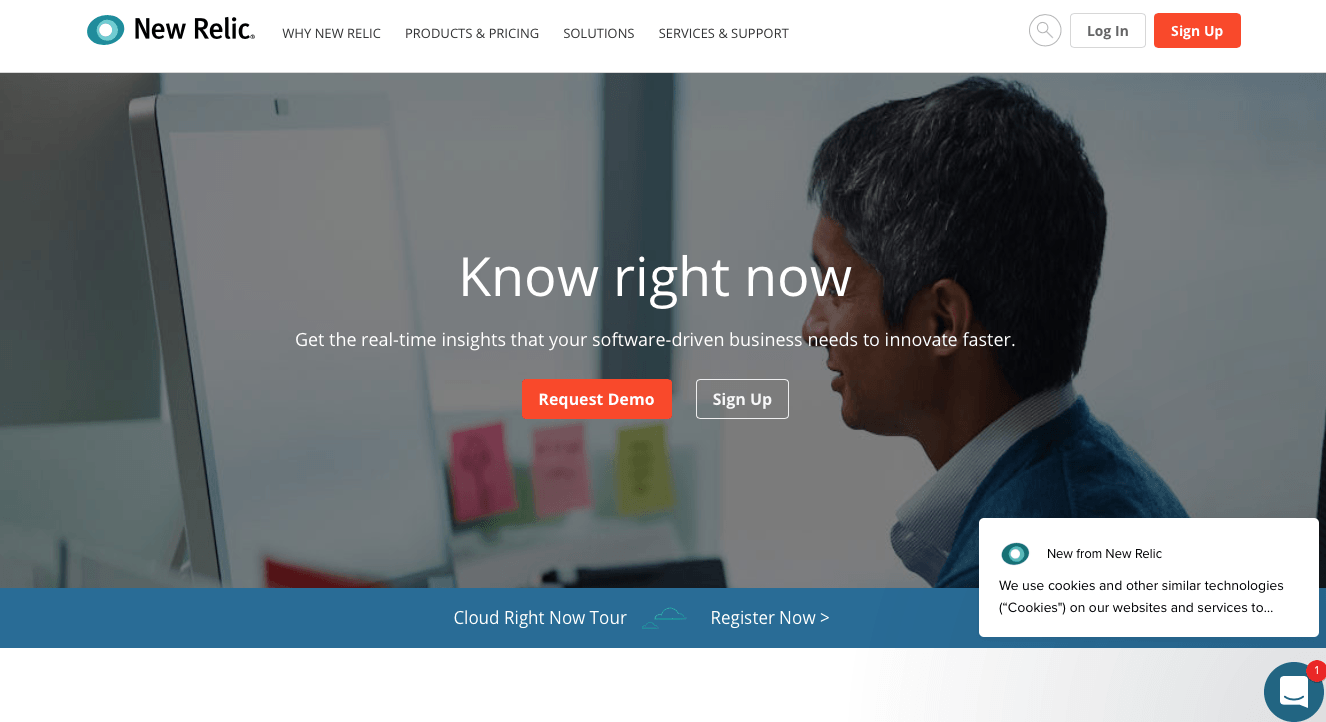 New Relic helps businesses who do not understand how to use analytics and data for full benefit by providing deep performance analytics for every part of their software environment.
You can easily view and analyze massive amounts of data, and gain actionable insights in real-time. For your apps. For your users. For your business.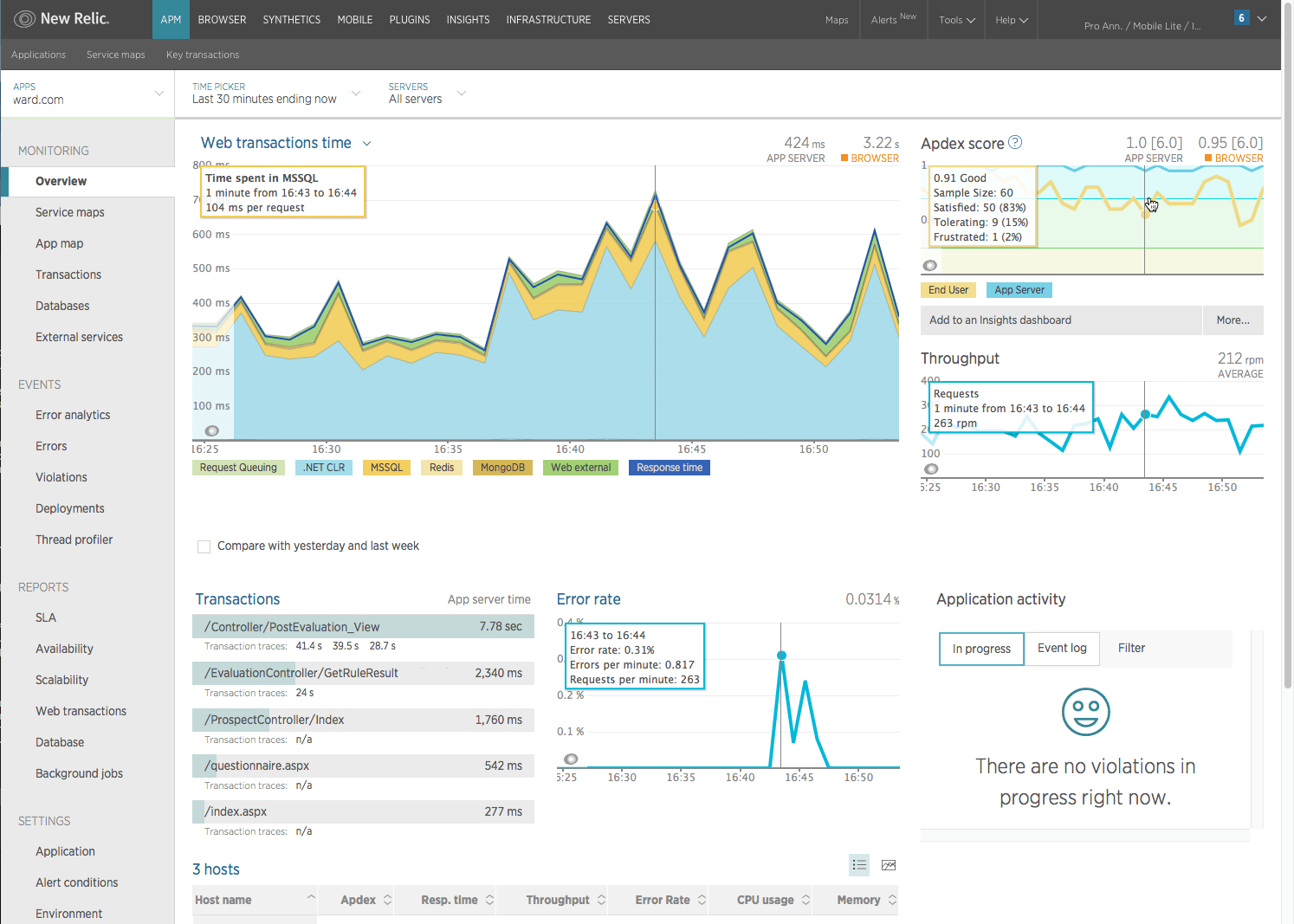 What a cool little B2B business eh? Making data sexy and usable for everyday people!
3. SKYPE
Skype is a B2B business service from Microsoft that allows you to video conference from anywhere in the world on your phone, watch, computer or TV. Skype's text, voice and video make it simple to share experiences with the people that matter to you, wherever they are.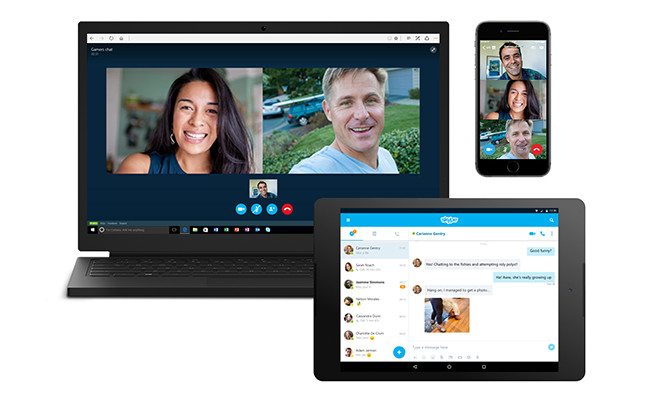 Skype allows a business to have a personal touch. Called one of the most "human tech companies" by AdWeek, it allows you to digitally meet clients face-to-face. With Skype stories, Skype connects to users by making centering their marketing efforts around their customers' conversations.
As a digital connector for people from all over, Skype allows you to expand your communication efforts to people far and wide! For B2B businesses that are just starting out, this a cheap way you can conference call people from all over.
4. BULKBOOKSTORE
Amazon is a great place to shop for a book if you want to order one copy or even a few copies. But if you need a bulk quantity of books, 25, 250 or 2,500 copies, BulkBookStore is your B2B business.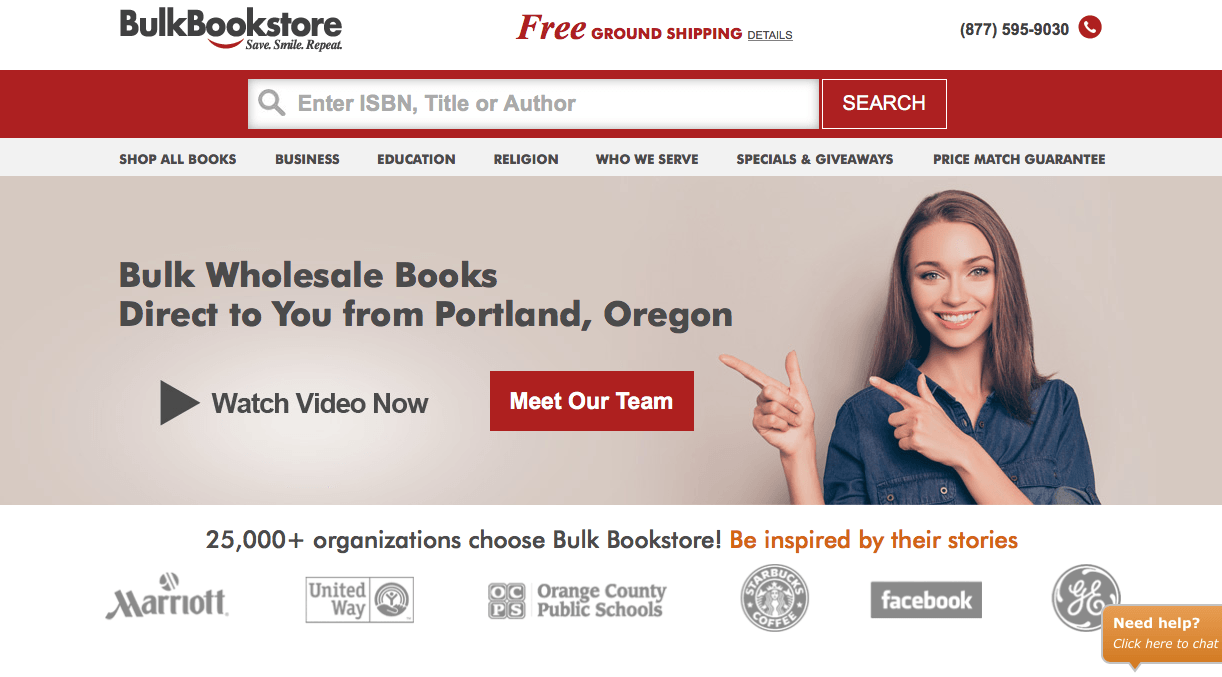 Buying books and paper products for businesses in bulk is a pain point BulkBookStore takes seriously. Their streamlined website has customer-centered shopping sections, a faster search engine than Amazon and a QuickQuote option. The BulkBookStore also added a selection of high quality customized journals to support customer requests for business meetings and corporate events.
If you need something made for a big business conference, meeting or for promotional items, BulkBookStore might be the answer you are looking for as a B2B business owner.
5. KINAXIS
If you're a B2B business owner with a lot of inventory and supply chains to organize, supply chain management might seem a bit overwhelming. KinAxis transforms the way companies run their supply chains through its innovative cloud-based supply chain planning solutions!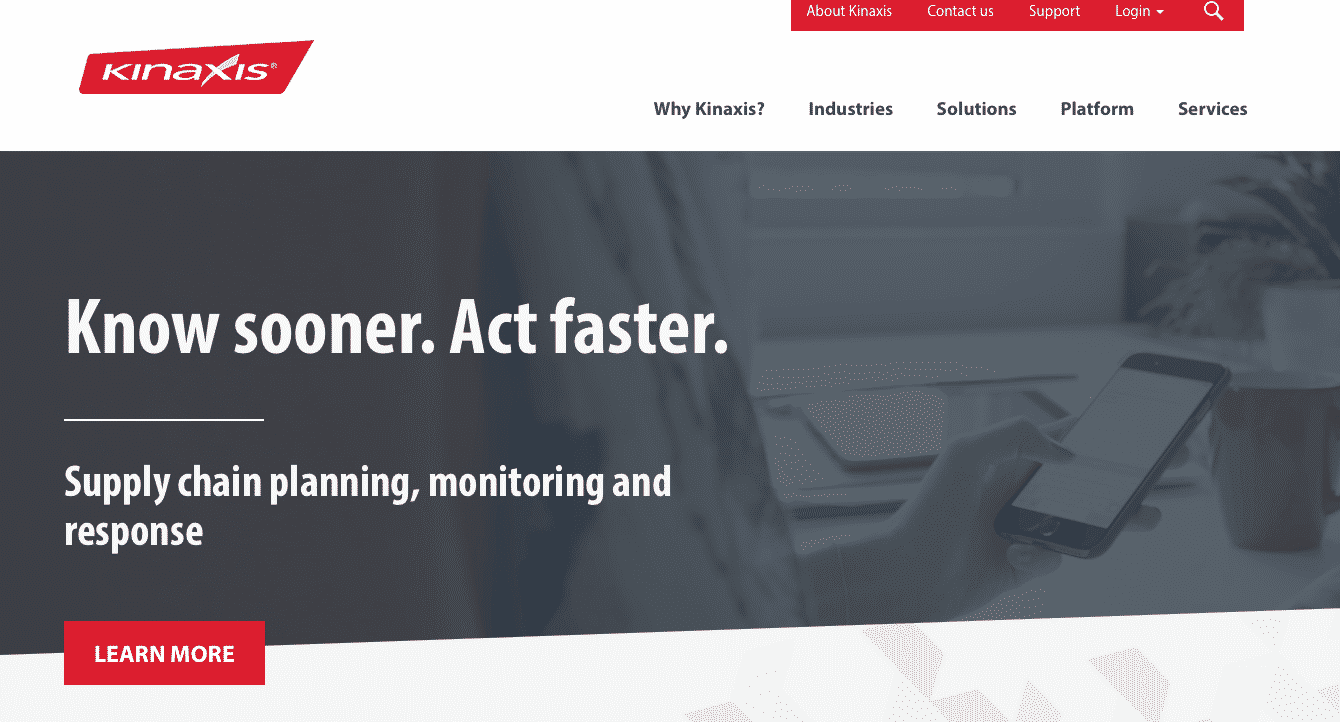 With their configurable supply chain planning and sales and operations (S&OP) cloud-based solutions, they:
Fill a supply chain planning technology and technique gap in the marketplace
Enable customers to reduce risk, cut costs and make decisions 100x faster
Can deliver ROI in a fraction of the time of other enterprise software systems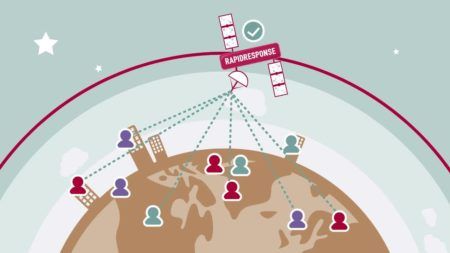 With KinAxis, you can accelerate your deployment and upgrade data integration with your existing systems which makes the process of upgrading easy, especially if you let them manage things exclusively.
6. HERMAN MILLER
Herman Miller is a 100-year-old furniture and design company whose innovative designs, technologies and related services improve the human experience wherever people work, heal, learn and live.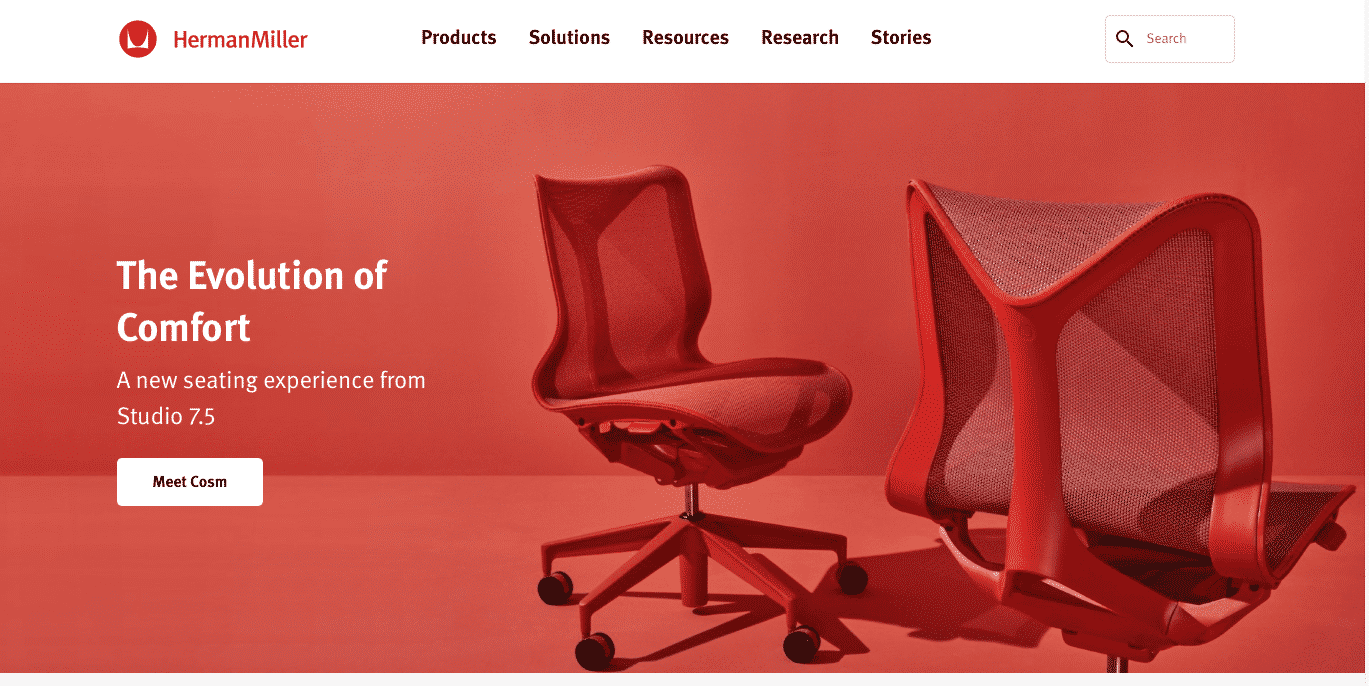 For businesses that want quality office furniture that will last, is high quality and gives a modern and comfortable feel to the office, Herman Miller is a great option. Herman Miller has engaged in a number of initiatives to promote sustainability, and many of them have had cost-saving implications for the company.
By creating a quality workplace that is aesthetically pleasing, designed well and interactive, Herman Miller delivers an elevated experience of work for people and helps businesses achieve their strategic goals.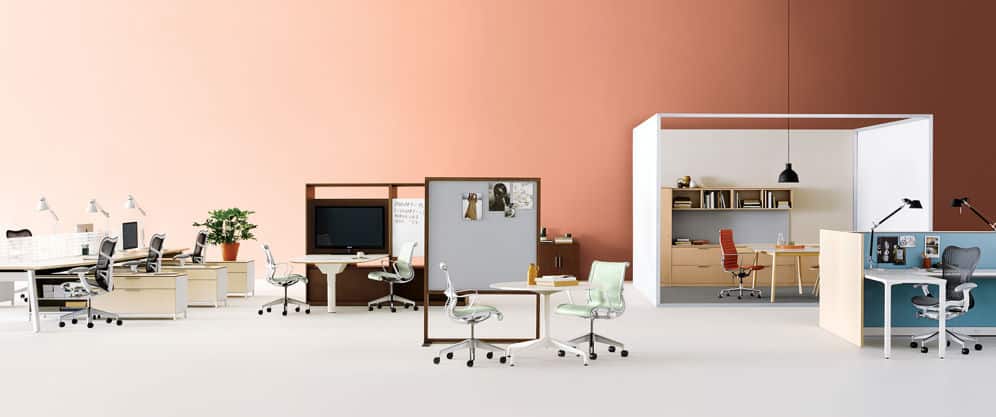 Remember, people spend more time at work than at home, so a business that helps the office space feel comfortable, at home and pleasing will be important!
BONUS FUN FACT: Herman Miller is credited with the invention of the office cubicle (originally known as the "Action Office II") in 1968! You can either thank him or not depending on your feelings about working cubicles ha!
7. KICKSTARTER
Kickstarter helps artists, entrepreneurs, filmmakers, designers, and other creators find the resources and support they need to make their ideas/ business plans a reality. To date, tens of thousands of creative projects—big and small—have come to life with the support of the Kickstarter community.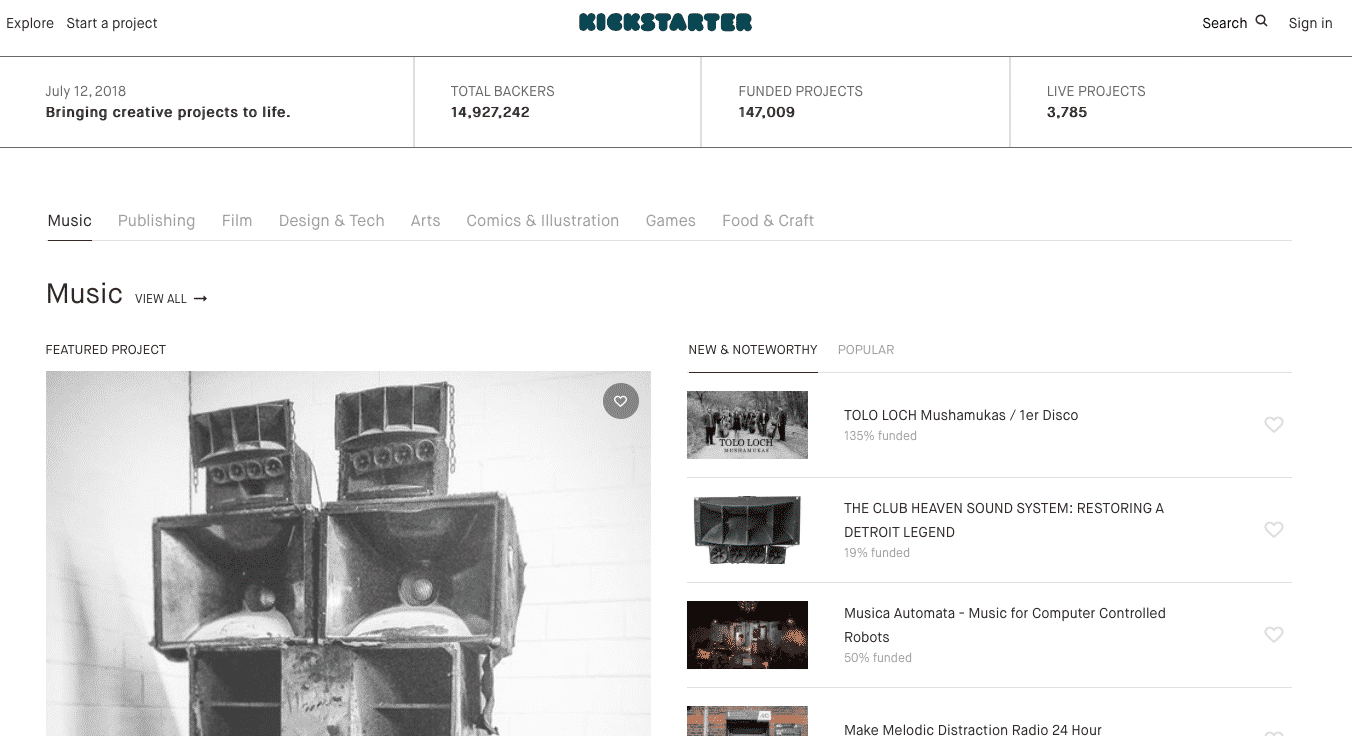 Just like a loaning company, Kickstarter allows people to get their dreams up and running financially. As a crowd-funded operation, Kickstarter runs on making their users' stories their story. They do a fantastic job of reaching out to everyone as they use business stories as a way to empower people to fund, donate and start a project.
This B2B business really inspires you to believe your business can take off all while you can start your social media exposure efforts! It helps you connect business with your personal networks, those people's networks and honestly, just makes business start-ups personable and more intimate.
8. WEWORK
WeWork was founded in 2010 with a mission to build shared office spaces and build community. If you browse through their website and their photos, you can see that they are focused on creating an experience for businesses and entrepreneurs: WeWork creates the ultimate office space.
WeWork encourages business owners and decision-makers to "make a life, not just a living" (what better emotional/personal connection can you make with potential customers?).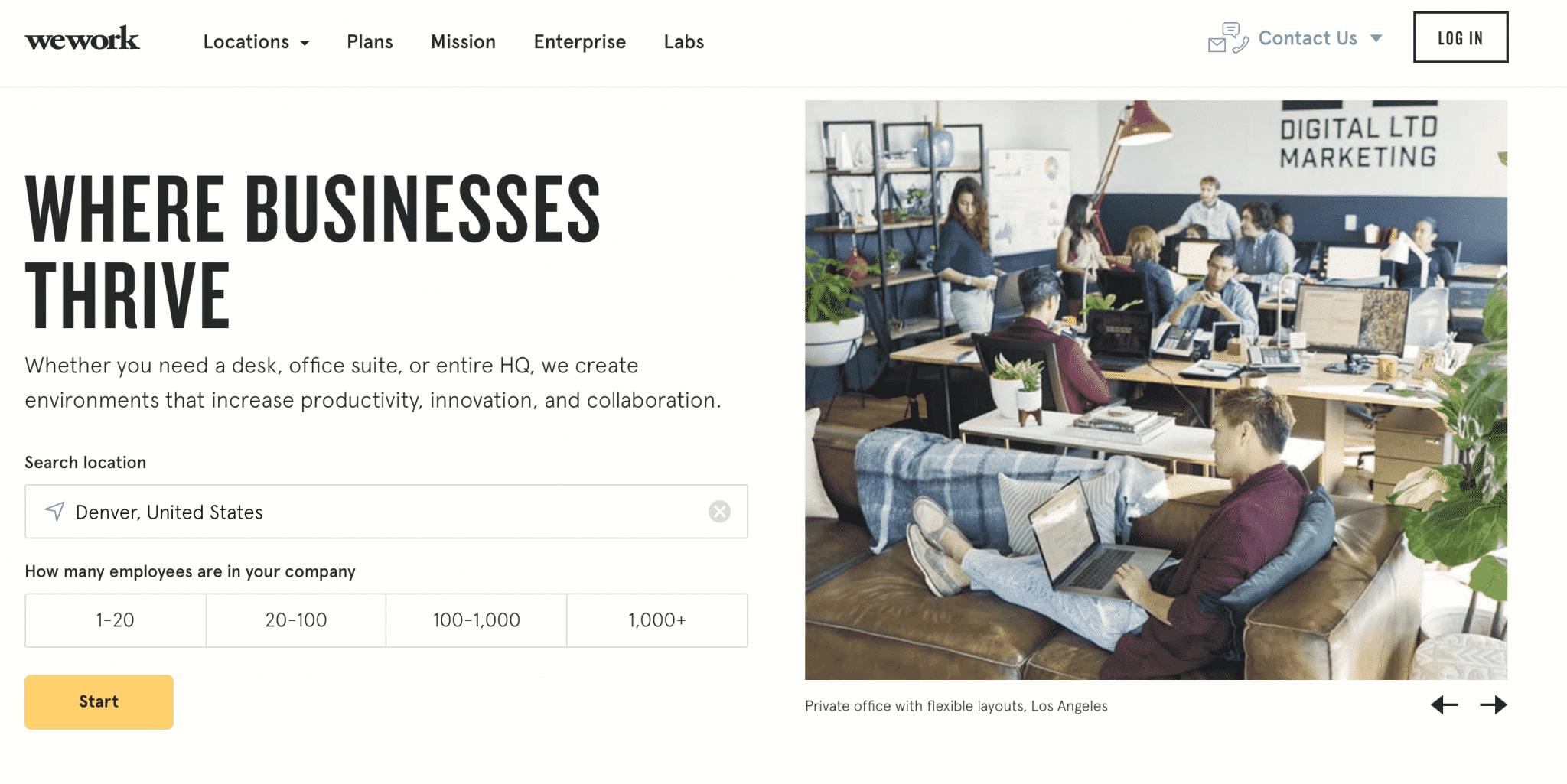 WeWork is an incredible B2B company example that continually evolves the research behind office spaces and how thousands of different businesses use them. By doing this, they position themselves as the company with the most valuable firsthand knowledge about how jobs best get done and what individuals need from the modern-day workspace.
WeWork looks to the future of its individual and small business consumers, they evolve with their market so their customers feel they are most productive and they rethink their basic needs to get the job done. It can be a cost-effective way to do business and changes the way we think about going to the office. They market themselves well and it's an ever-evolving business to inspire people to work in their preferred way.
9. SLACK
Slack is where work happens. It's where the people you need, the information you share and the tools you use come together to get things done. Slack provides a communicating platform where your business team can come together to collaborate effectively!
Through effective communication channels that can be organized by projects, topics or teams, a messaging application has never been more helpful to a business. If you are a company where you have a lot of moving pieces, remote individuals and a lot to organize, Slack makes sharing content and a workspace digitally a quality experience.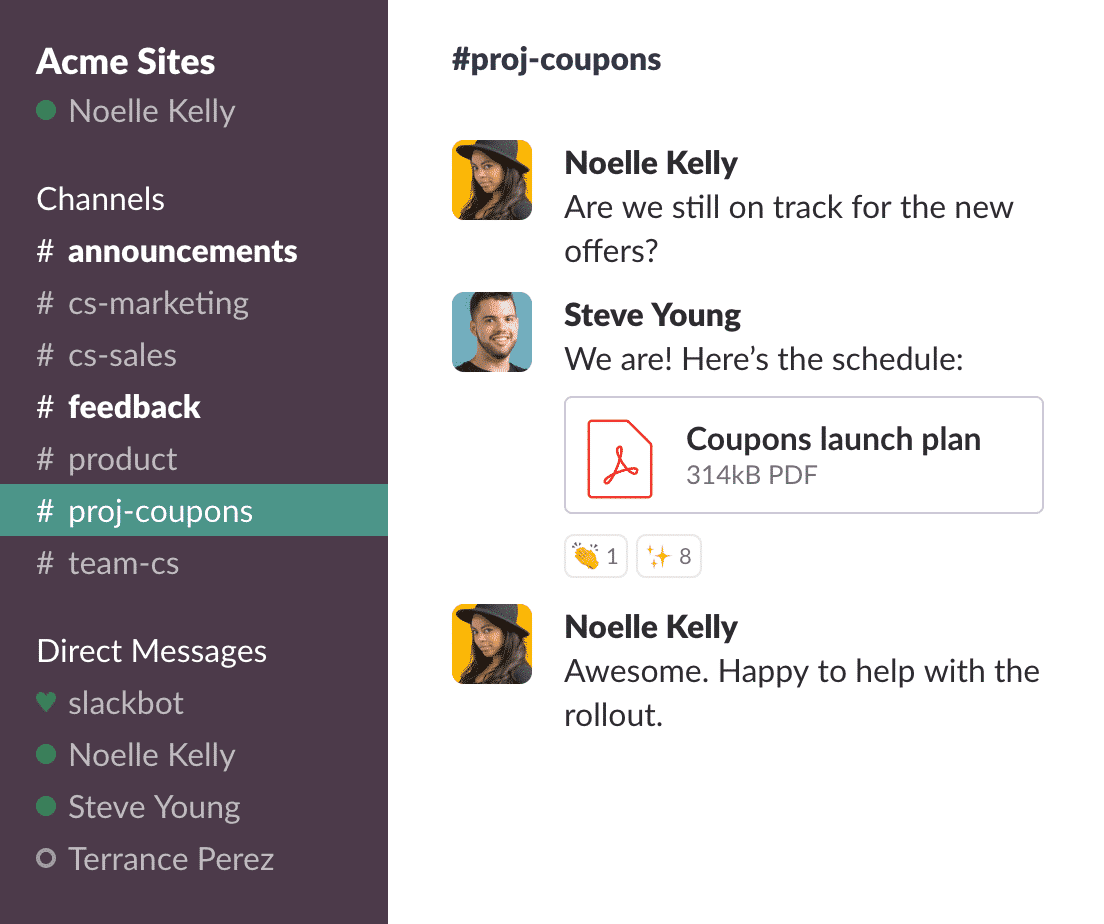 Hundreds of people are contributing across the world with many stakeholders who need to stay informed. The ease of communication that Slack provides helps support the teams that are delivering value at this pace and scale.
This is why Slack is one of the best business-to-business examples, it scales communication for businesses. So, if you need a communication channel that can help your business team members thrive on projects and sharing information effectively, efficiently and quickly, Slack can help you out!
10. MAILCHIMP
Mailchimp is the world's largest marketing automation platform. It's like a second brain that helps millions of customers—from small ecommerce shops to big online retailers—find their audience, engage with their customers and build their brand.
Mailchimp helps businesses send better mail and marketing campaigns via email! This speaks to businesses who struggle to afford top designers, let alone a design team to create quality content.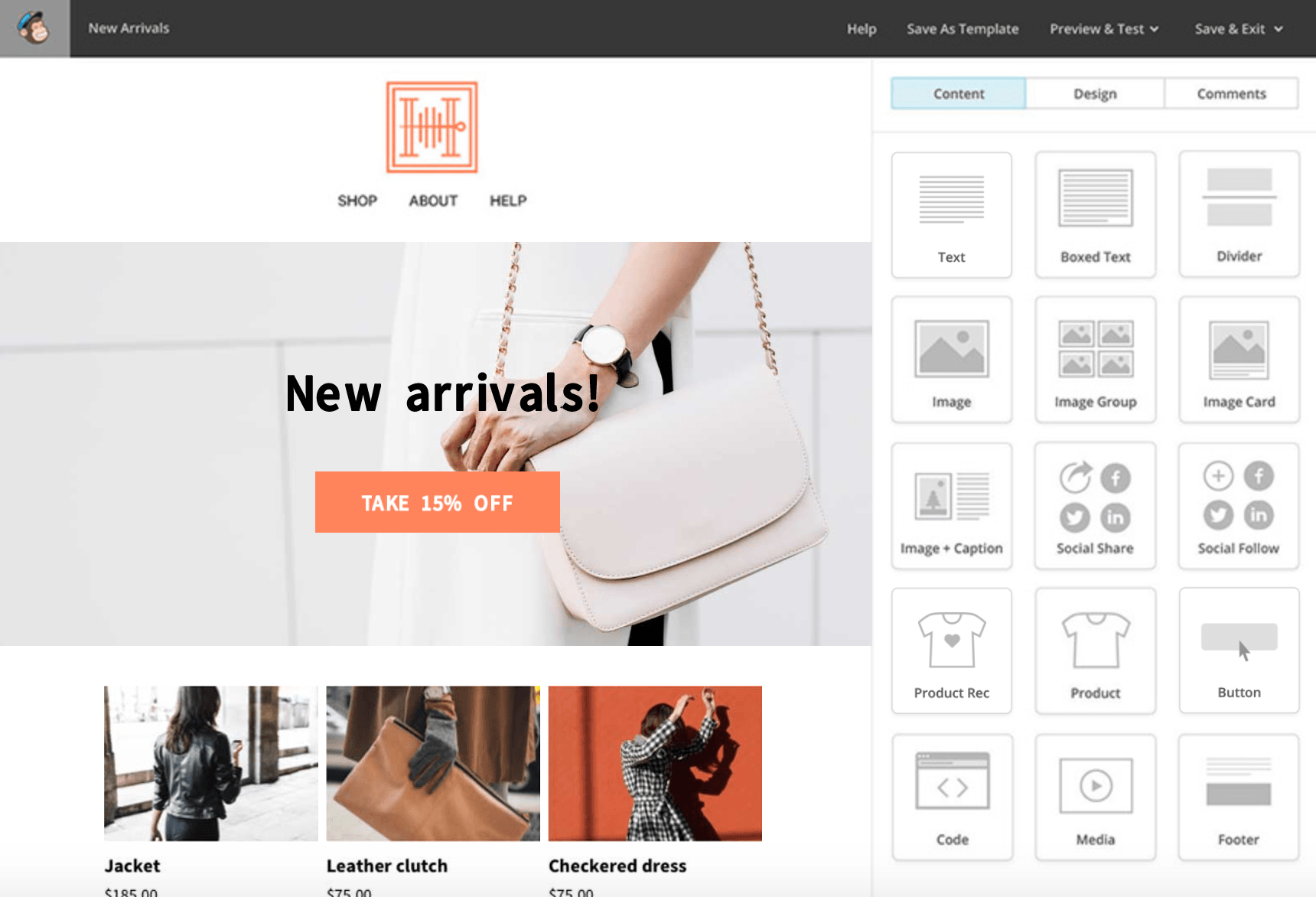 Whether you need to sell your products, share some big news, or tell a story, Mailchimp's campaign builder makes it easy to create an email marketing campaign that best suits business messages.
MailChimp gives you the marketing tools to be yourself on a bigger stage, so if you are a business that is looking to expand its email campaigns and general marketing efforts, Mailchimp can help you get the word out in a snazzy way.
11. BUFFER
Do you ever wonder how Beyonce does everything that she does? She has 24 hours in a day just like you do. What she does better than the rest of us is find tools to help her accomplish more. You can do the same by using time-saving tools like Buffer!
Buffer is a software application designed to manage accounts on social media networks so users can schedule posts to Twitter, Facebook, Instagram, and Linkedin.
Buffer saves you time, sanity and helps you stay on top of being "active on social media" as a business (which essentially means posting on social media at least once a day). As a business, you understand time is money, so even little tedious projects like posting to social media can hurt your bottom line.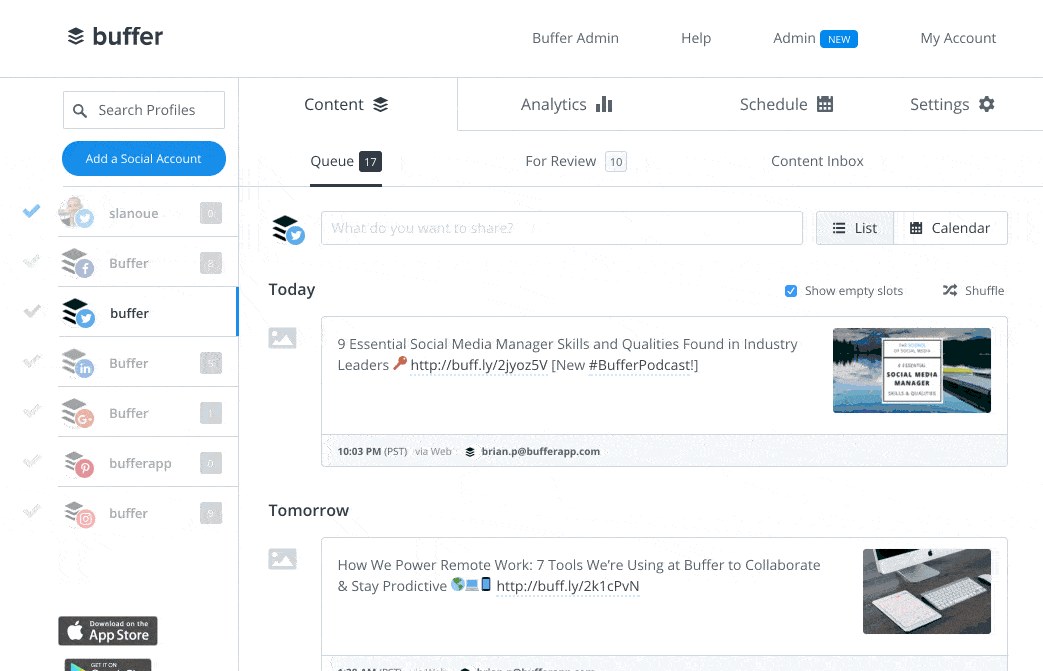 No more wasting time, no more logging into multiple social accounts. Buffer speaks to businesses who have a lot to say across a lot of platforms, but might not have the time nor the manpower to communicate consistently across a wide array of social media platforms.
12. SALESFORCE
Salesforce is one of the best business-to-business examples out there. It's not the easiest software to learn, but it provides a centralized place where you can organize your sales process.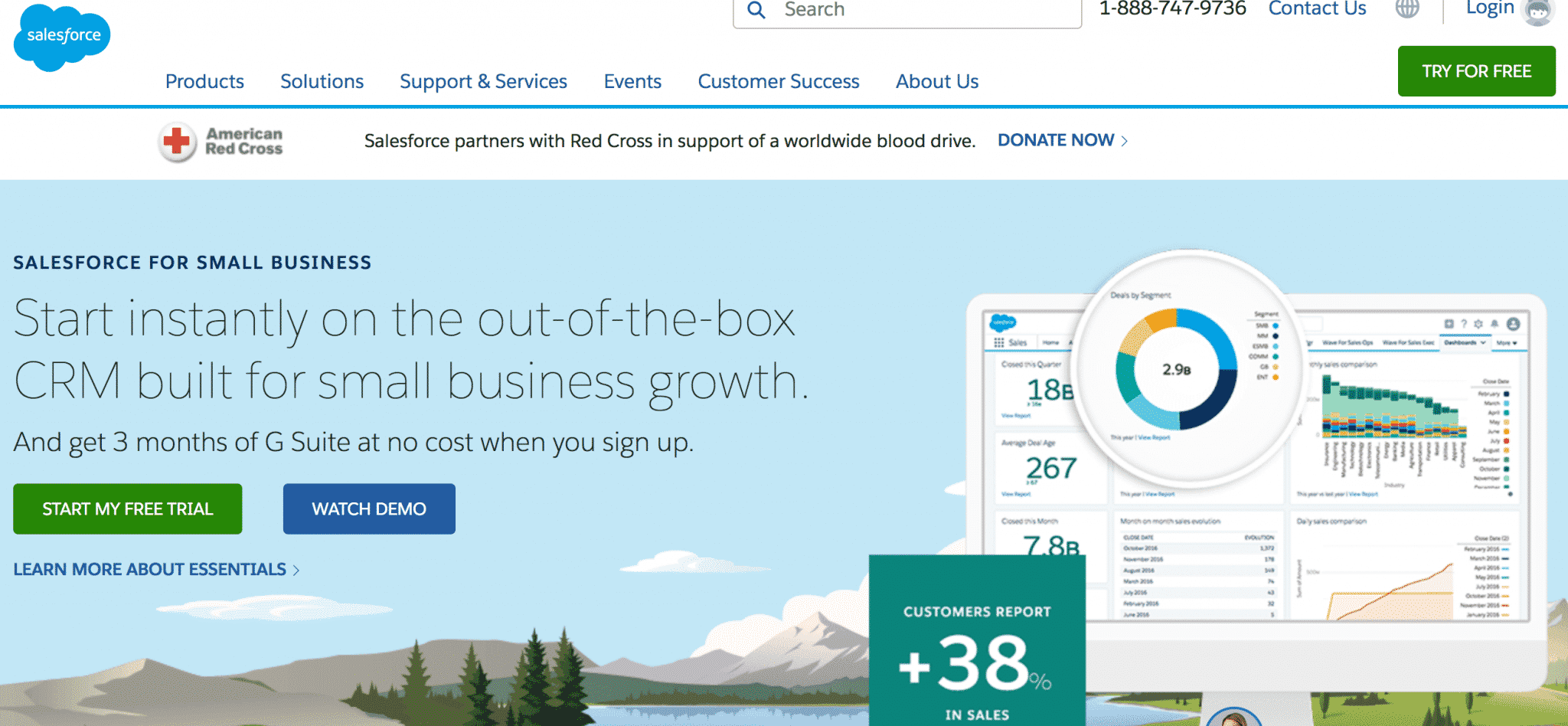 More than 150,000 companies are blazing trails to success with Salesforce's services. So, if you are a business looking for a centralized place to log in your client's information, to compile accounting "Excel sheets" or to manage your marketing and client communication logs Salesforce helps businesses stay organized and moving forward!
13. LINKEDIN
LinkedIn continues to set itself apart in the business-to-business world by being equal parts professional social media network and thought leadership platform.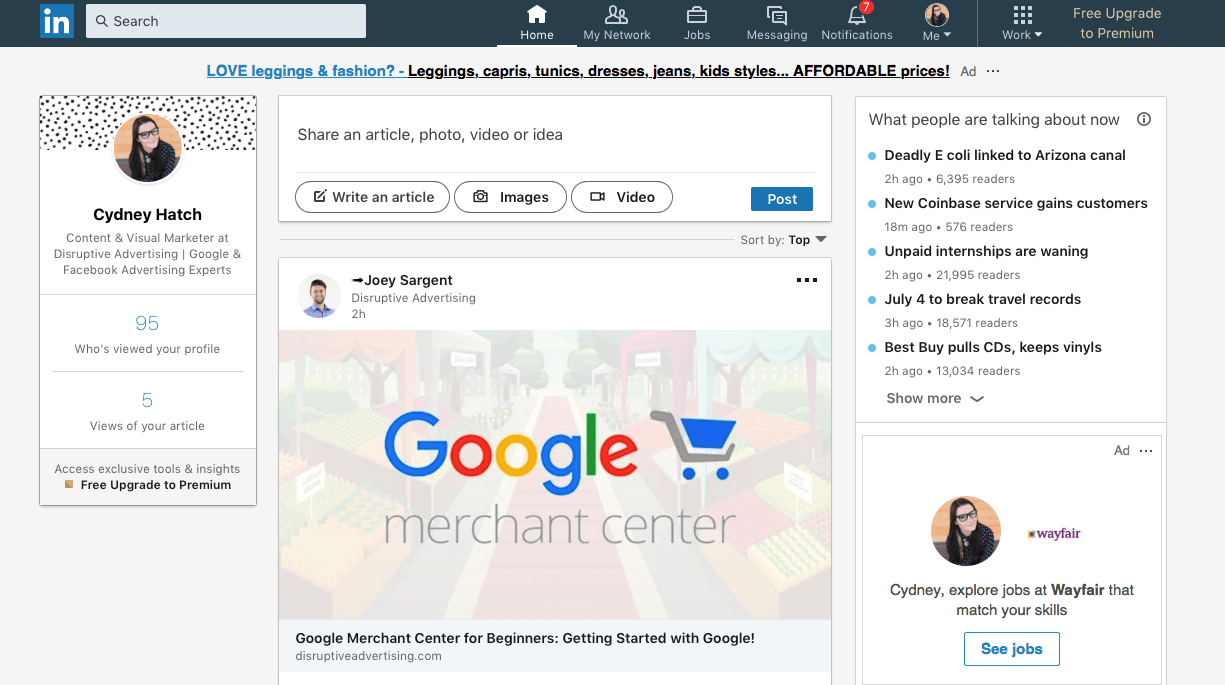 The company has cultivated a reputation as the place to go for all sorts of smart insight into the business world by sharing content from how to's, business articles and news to even job openings!
So if you are a business that struggles socially, or wants to be informed on their market's issues and topics LinkedIn offers a great way to be "in the know" and get to know others in their fields digitally!
14. PEWRESEARCH CENTER
Pew Research Center calls themselves a "nonpartisan fact tank." We know them, of course, as one of the foremost research organizations in the US.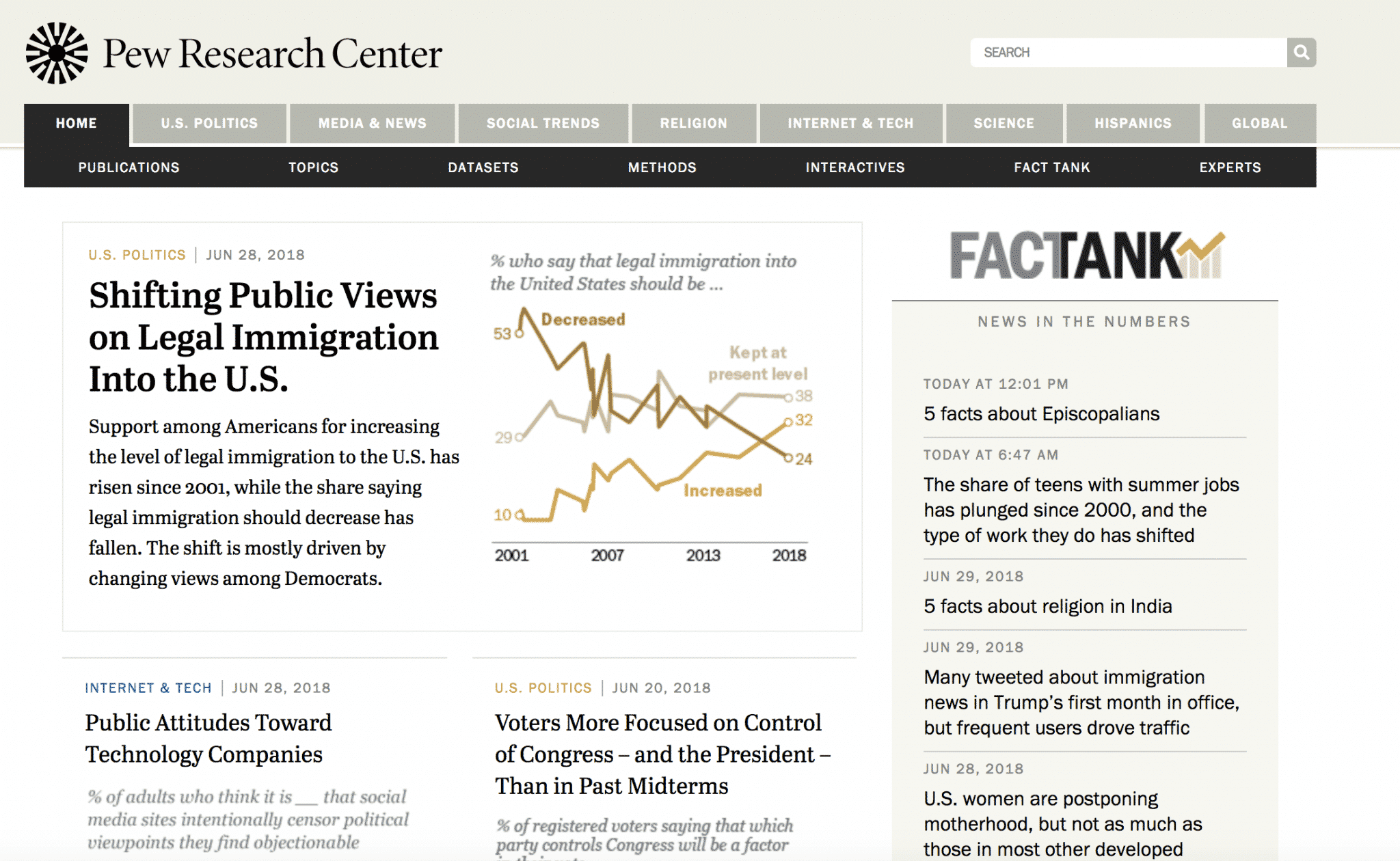 While most research reports are pretty cut-and-dry, Pew is constantly collecting data through surveys and questionnaires that customers can fill out.
Now, you might be wondering why I am listing this as an effective B2B company, but data is really concrete information you can use to create your marketing strategy. Informing yourself as a business owner on the world and the customers you are trying to target will only help you zero in on their feelings, behaviors and how you can manipulate that for your marketing.
15. FILEVINE
Filevine offers case management software for law offices. This is a little more niche than many of the business-to-business examples on this list, but it's a great example of how you can build an effective B2B company around a very targeted group of businesses.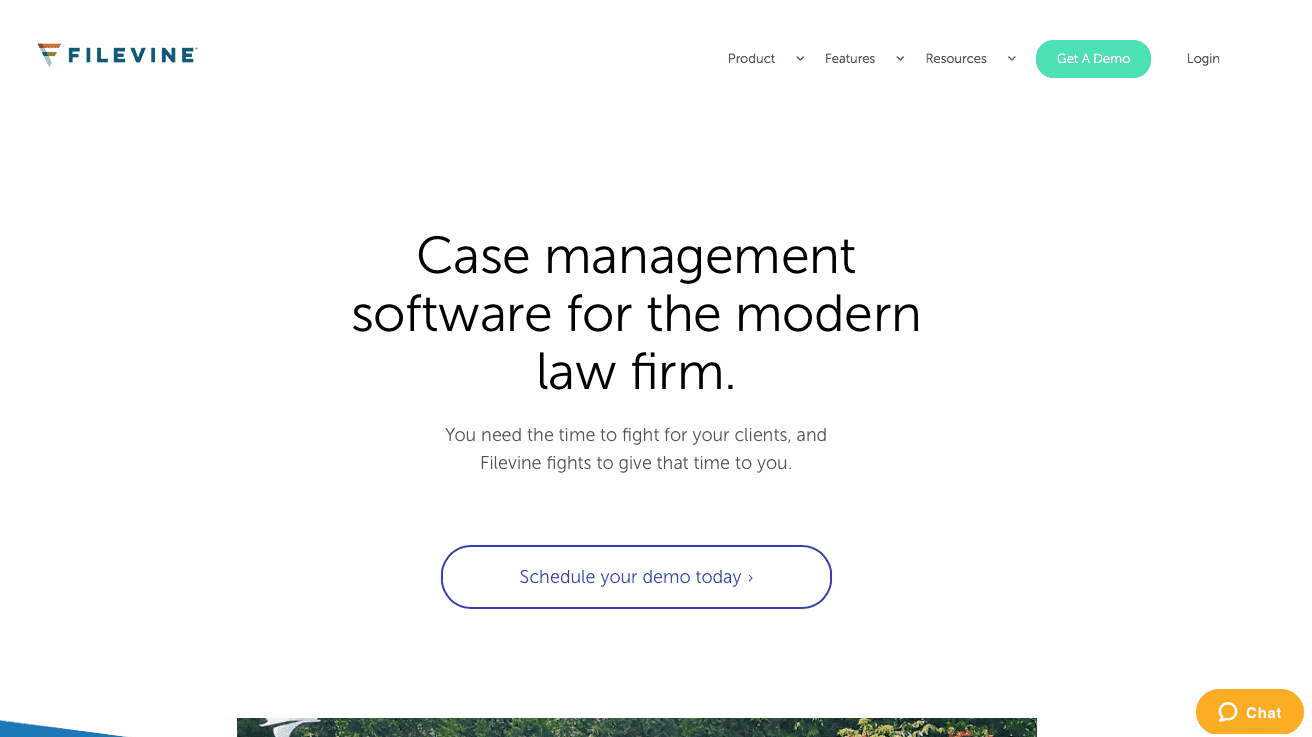 Filevine helps attorneys who are dissatisfied with their current case management approach and gives them a team of software engineers and a cloud-based management system that allows them to focus on doing what they do best: being a lawyer.
16. QUALTRICS
Surveys and customer research are key to B2B business success. Creating, running and managing those surveys isn't always easy, however, which is where Qualtrics come into play.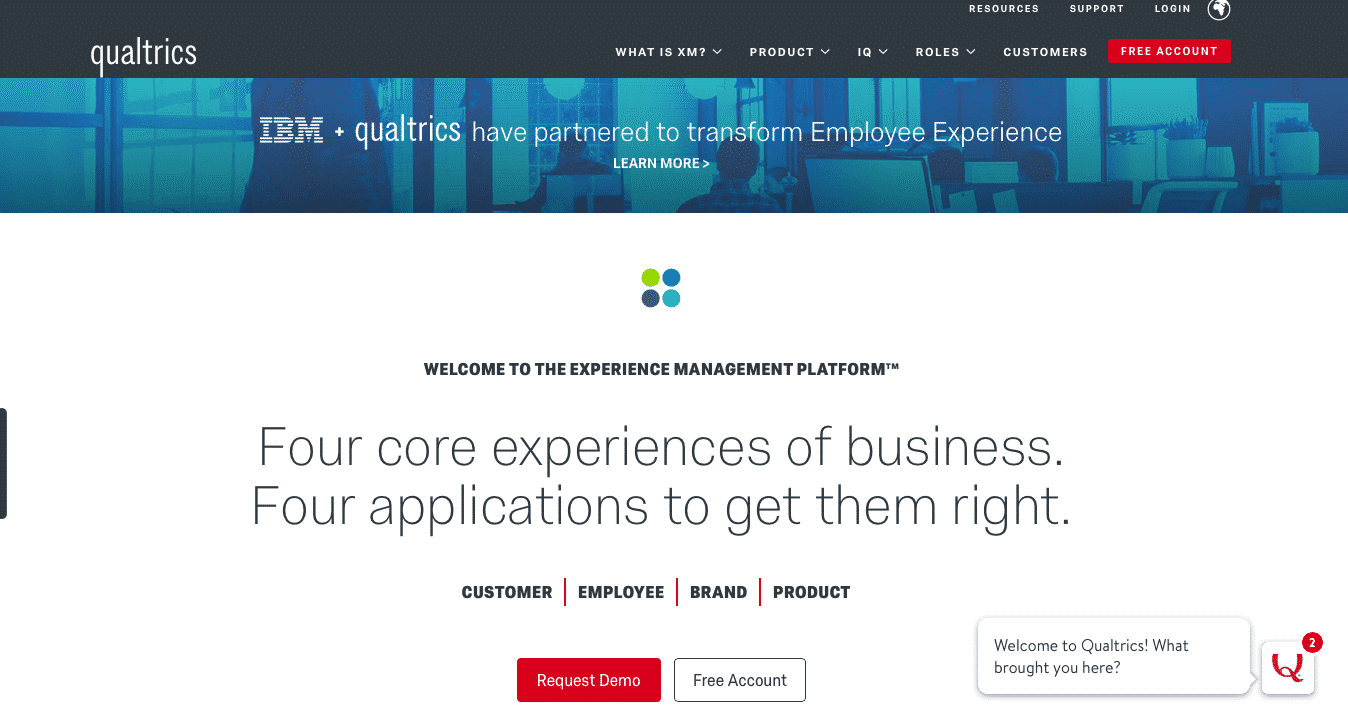 Qualtrics is a simple to use web survey tool that does survey research, evaluations and other data collection processes for businesses. Anyone can use this research suite to build surveys, send surveys and analyze responses from anywhere, anytime.
So, if you are new to survey software and you want something easily streamlined to do it for you, Qualtrics is a pretty great option to help you understand your customer base better!
17. GREY ADVERTISING
Did you love the NFL "TOUCHDOWN CELEBRATIONS TO COME" commercial, featuring Odell Beckham Jr. and Eli Manning, during the 2018 Superbowl? If you did, you love Grey Advertising, because they were the creatives behind it.
Grey ranks among the world's top advertising and marketing organizations, serving one-fifth of the FORTUNE 500, in 96 countries. They are a creative agency that is innovative for their customers who are wanting to create a strong brand experience across every platform and create lasting consumer connections.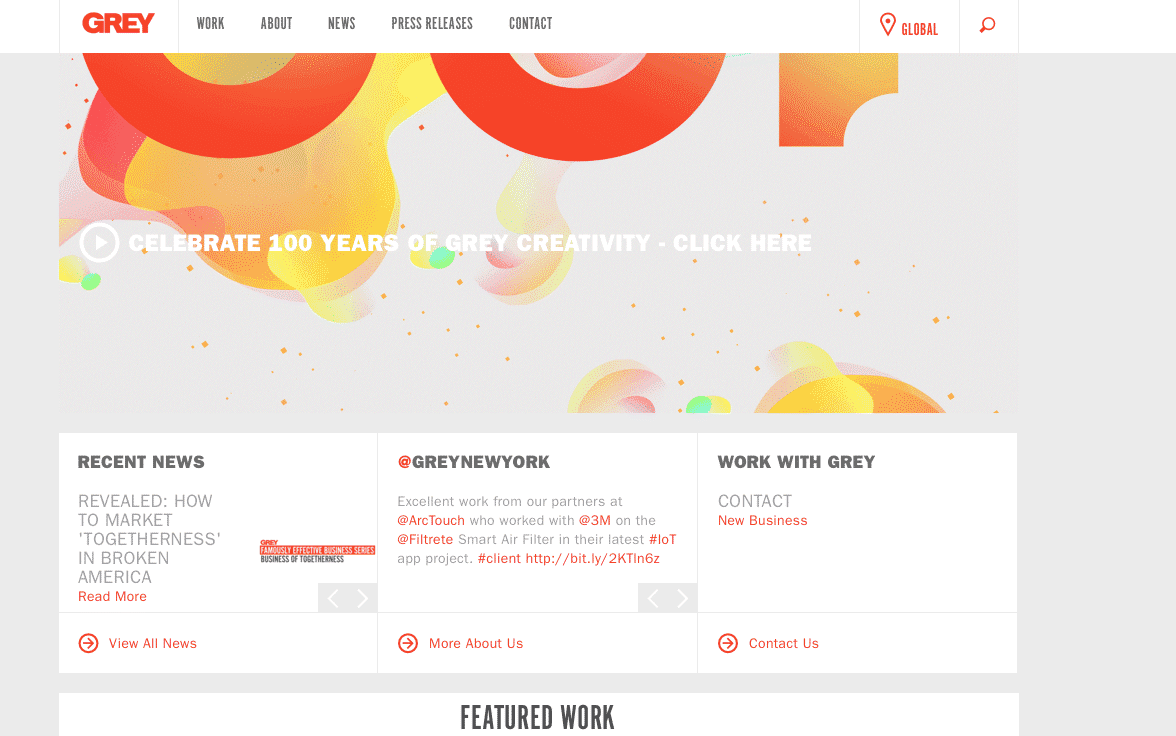 As a business owner, a lot of the time you might not know how to sell your B2B business services in a sexy way to drum up interest. This is where a creative advertising agency can come in and help you!
18. FREE FOR BRANDS
Free for Brands is a creator studio that helps brands get into the modern world creating content and experiences with the new leading voices of our multiplatform mediascape. They offer a global community of photographers, filmmakers and cultural leaders who will help business become culturally relevant to the new target audience of Millenials through content, social media management and classes.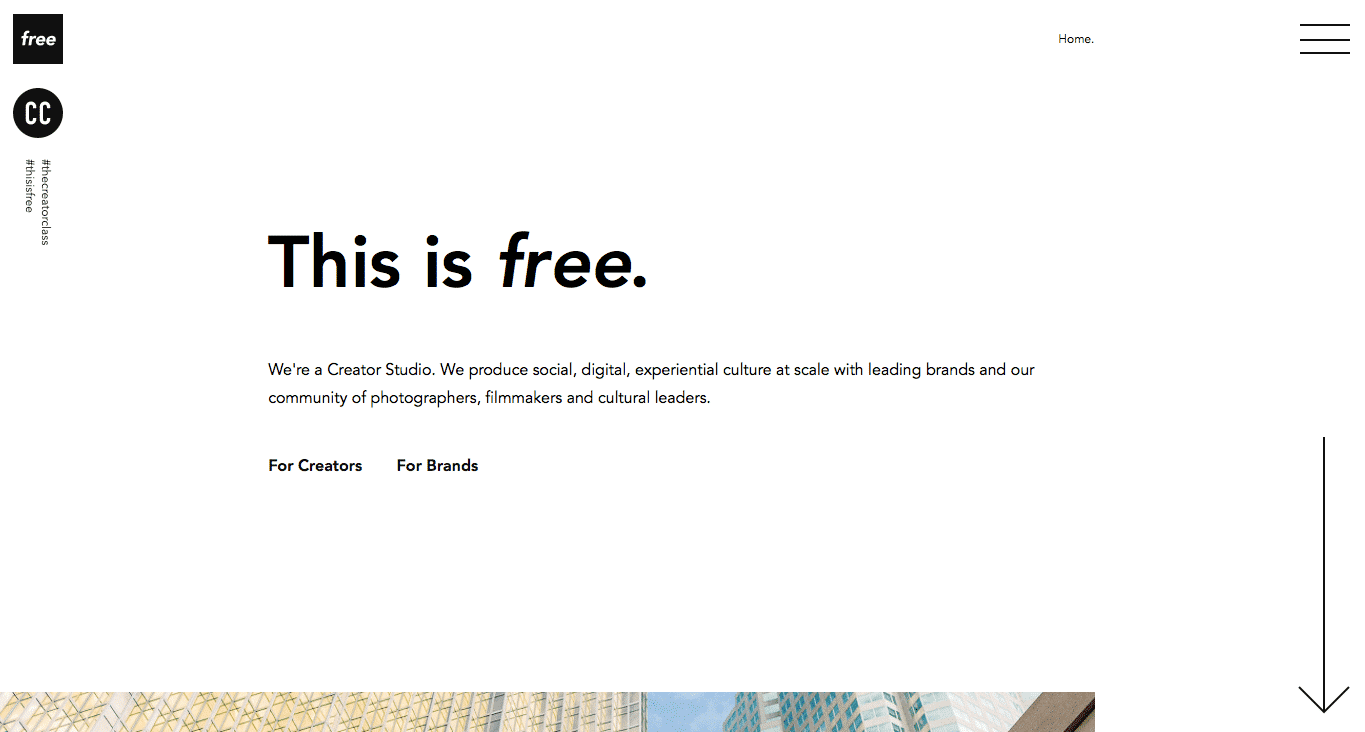 Free for Brand's collaborators span platforms and genres, enabling their customers to connect with targeted Millennial consumers in person, and across the social web.
19. WORKDAY
WorkDay provides enterprise cloud applications for financial management, human capital management (HCM), payroll, student systems, and analytics.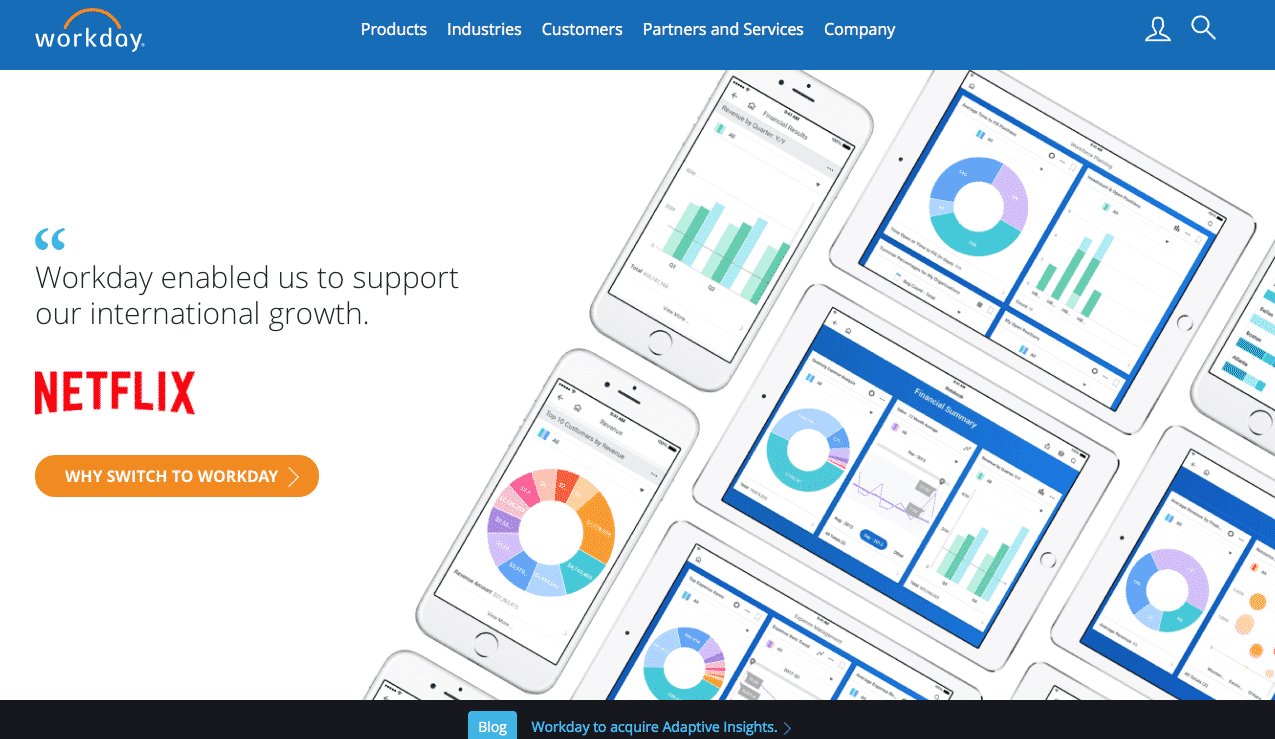 With a single system for finance and HR, WorkDay gives you total visibility so you can make decisions based on data, not guesswork. Since HR and finances go hand in hand most of the time in business, having one system to do both helps you improve overall performance, efficiency and organization!
Need to do payroll all while trying to manage your global workforce with real-time labor cost date? WorkDay has you covered.
WorkDay provides a framework for conducting business that prepares you for future growth. Again, a business that can streamline processes to be quicker and more efficient can be really helpful to any B2B business!
20. HOOTSUITE
Like Buffer, Hootsuite has made a name for itself in content marketing as an all in one solution for social media—only Hootsuite goes beyond social media scheduling!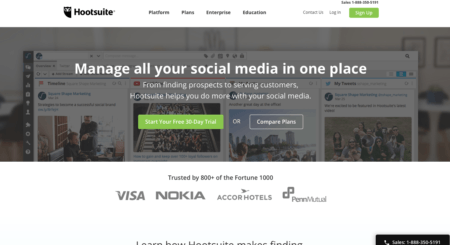 Hootsuite not only schedules content, it also curates, analyzes and monitors it! So, if you want to see how your social media is doing, where it's most successful and how you can optimize this data in your marketing strategies as a B2B business, Hootsuite can help!